February is American Heart Month
February 1, 2022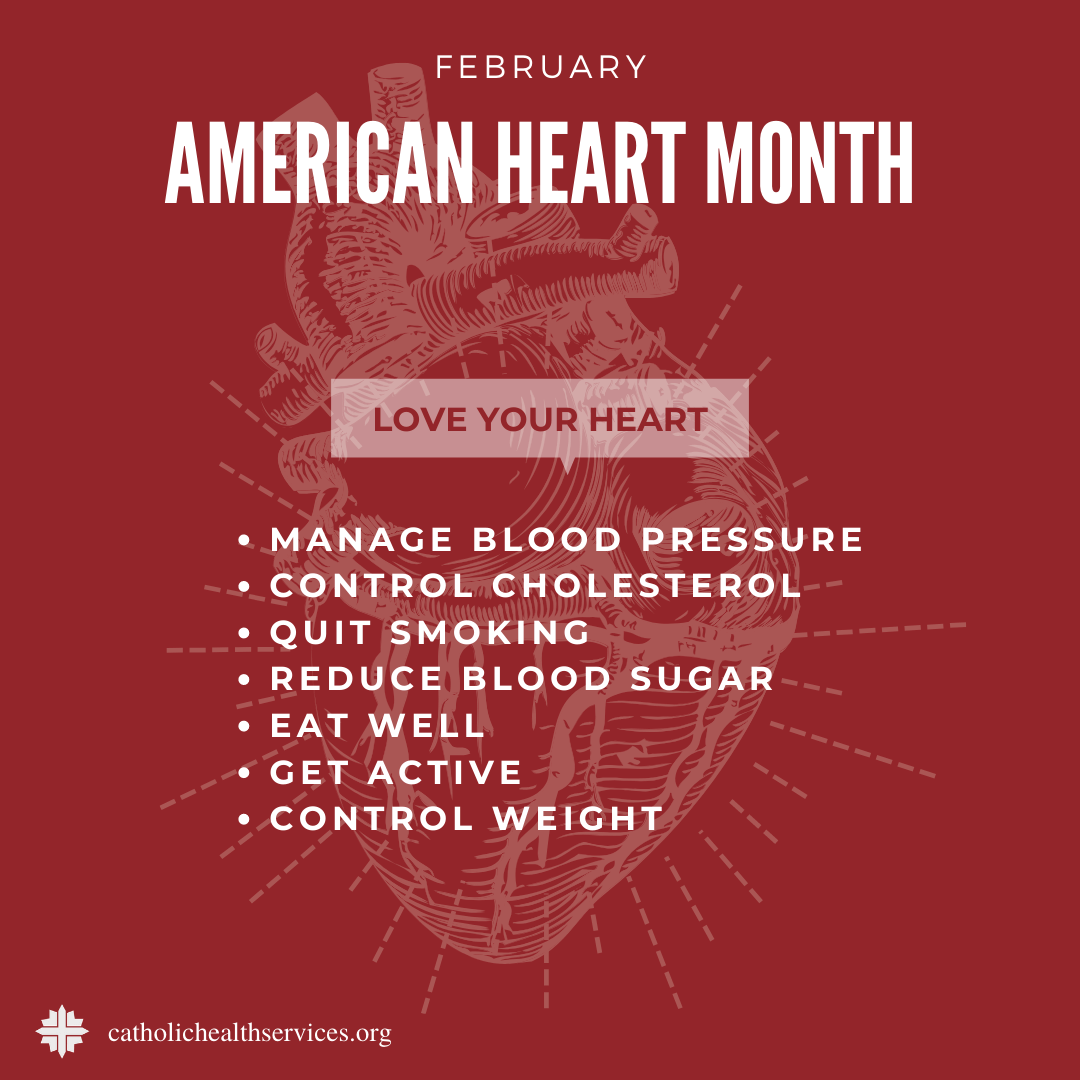 Did you know heart disease is the leading cause of death for men and women in the United States?
According to the Office of Disease Prevention and Health Promotion, heart disease, stroke and other cardiovascular diseases account for approximately $320 billion in health care expenditures and related expenses annually, and are among the most widespread health problems facing the nation today.
The good news is they are also among the most preventable. The main risk factors for heart disease and stroke are:
High blood pressure
High cholesterol
Cigarette smoking
Diabetes
Unhealthy diet and physical inactivity
Overweight and obesity
These risk factors can cause changes in the heart and blood vessels over time that can result in heart attacks, heart failure and strokes.
Controlling these risk factors can be challenging but it's important to address them early in life to prevent the potential complications of chronic cardiovascular disease. More than 1 in 3 adults live with 1 or more type of cardiovascular disease. Heart disease is the first leading cause of death and stroke the fifth. Additionally, they result in serious illness and disability, decreased quality of life and hundreds of billions of dollars in economic loss every year.
What can you do to help control risk factors for heart disease?
Take control of your high blood pressure, high blood cholesterol and quit smoking. A healthy diet, low in salt, and more physical activity can help reduce your high blood pressure and cholesterol.
If you think you are at risk for heart disease, talk to your medical provider about other improvements you can make to your lifestyle to help reduce your chances of suffering a heart attack or stroke.
If you or someone you know is a stroke survivor, you are invited to attend the different stroke support groups hosted by the Stroke Teams at any CHS rehab facility. Individuals with stroke history, stroke survivors, caregivers and family members are welcome and encouraged to attend.
Locate a support group near you:
St. Catherine's Rehabilitation Hospital
1050 NE 125th St, North Miami, Florida 33161
When: Every second Tuesday of the month – Call (305) 891-8850 before attending
Time: 1:00 – 2:00 pm
—
St. Anthony's Rehabilitation Hospital
3075 NW 35th Ave, Lauderdale Lakes, Florida 33311
When: Every Thursday – Call (954) 736-6233 before attending
Time: 2:00 – 3:00 pm
—
St. Catherine's West Rehabilitation Hospital
8850 NW 122nd Street, Hialeah Gardens, FL 33018
When: Third Wednesday of every month – Call (305) 351-7181 before attending
Time: 1:00 – 2:00 pm