St. Catherine's West Rehabilitation Hospital
8850 NW 122nd Street
Hialeah Gardens Fl, 33018
(305) 351-7181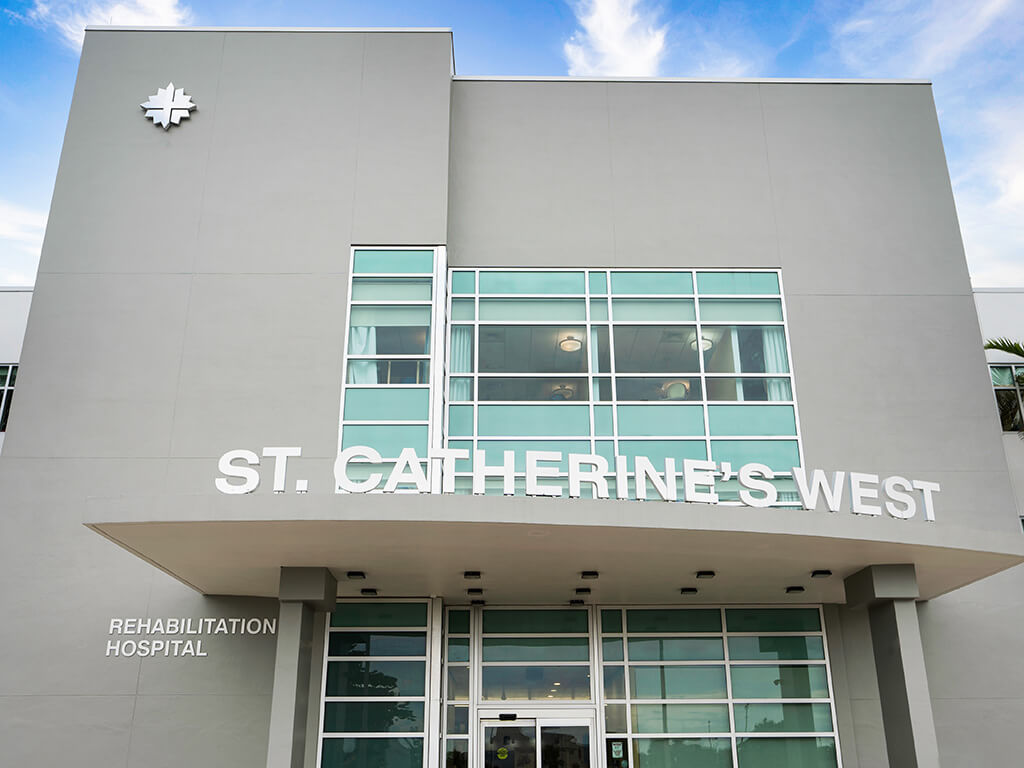 Take a video tour
St. Catherine's West Rehabilitation Hospital is a 40-bed, mostly private rooms, state-of-the-art medical facility designed for patients who can benefit from intensive rehabilitation in an interdisciplinary hospital setting.
Designed and constructed with comfort in mind, St. Catherine's West Rehab Hospital houses the latest medical technology and equipment necessary to treat every patient to his or her highest level of function and independence. St. Catherine's West, like its sister hospitals, St. Catherine's and St. Anthony's Rehab Hospitals, are staffed with highly trained medical professionals whose goal it is to ensure that every patient gets the very best care and recovers as quickly as possible so they may return to their productive lives. Many private rooms are furnished with a comfortable sleeper couch or chair for family members that wish to stay with the patient through the night. The hospital has two transitional apartments/suites where patients practice skills in a living room, kitchen, bathroom and laundry room. (Transitional suites are designed to re-train patients on activities of daily living before returning home).
Our specialized rehabilitation programs are designed to meet the needs of individuals who have a broad range of acute or chronic illnesses that cause temporary or permanent disability. Our programs combine medical care with rehabilitation services to help re-establish the functional, physical, cognitive and behavioral skills required to live as independently as possible. Physical, occupational, speech and respiratory therapies will be provided, as well as physician supervision and round-the-clock nursing care.
St. Catherine's West is staffed with highly qualified medical professionals whose goal it is to ensure that every patient gets the very best care and recovers as quickly as possible so they may return to their productive lives.
Specialized Rehabilitation Equipment:
Aquatic Center:
St. Catherine's Rehabilitation Hospital has an Aquatic Center on campus. A temperature controlled indoor swimming pool provides both inpatients and outpatients the ability to engage in therapeutic aquatic exercises.
Bioness:
Bioness is state-of-the-art technology that utilizes electrical stimulation during functional activities of the arm and/or leg to promote faster recovery after a neurological injury such as a stroke, brain injury, spinal cord injury, or multiple sclerosis. The devices are used during activities such as grasping with the hand or walking and research has shown that the devices speed and enhance recovery of motor function in patients with new or chronic neurologic disease. Please visit www.bioness.com to learn more about this exciting new technology.
Balance System SD:
Using this unique device, clinicians can assess neuromuscular control by quantifying the patient's ability to maintain dynamic postural stability on a static or unstable surface. There are four test protocols including fall risk, athletic single leg stability, limits of stability and postural stability. The Balance System SD also serves as a valuable training device to enhance sensory abilities that may provide some degree of compensation for impaired reflex mechanisms following injury.
SaeboFlex:
The SaeboFlex will allow patients to immediately begin using their hand functionally in therapy and at home. Even individuals with longstanding neurological injury may benefit from the SaeboFlex. In addition, the ability to use the hand in therapy or at home has been reported as extremely motivating during the recovery process. Please visit http://www.saebo.com/seaboflex.html to find SaeboFlex trained therapists in our facilities.
Partial Body Weight Supported Gait Training:
Using this device, therapists can begin early ambulation (walking) in patients who are not able to support themselves on their legs. Specifically, the device allows therapists to begin gait training very early in patients who have suffered neurological or orthopedic injury. Scientific evidence supports the use of this device in retraining the brain when patients are relearning use of the legs. There is strong evidence linking early rehabilitation in this type of device and subsequently improved ambulation (walking). The device can be used over a treadmill or over land.
Applications Include:
Stroke
Spinal Cord
Head/Brain Injury
Amputees
Orthopedic
Neurologic
Vestibular
Older Adult Patients