Services: Home Care | Home Health
Recovering from injury or illness? Need extra help with daily living activities? Schedule an in-home visit. We'll listen carefully to your needs; discuss which services match best; and answer all your questions.
Home Care
Get help with daily living tasks like bathing, dressing, meal prep, toiletry or incontinence care, light housekeeping, shopping, medication reminders or social companionship.
Home Health Care
Get doctor-prescribed skilled care for surgery recovery, illness, injury or medical management. Examples: skilled nursing, wound care, diabetes management, cardiac care, IV therapies, PT/OT/Speech and post-op care.
Skilled Nursing Care provided by:
Registered Nurses & Licensed Practical Nurses
Personal Care Assistance
Medical Social Services
Certified Nursing Assistants
Home Health Aides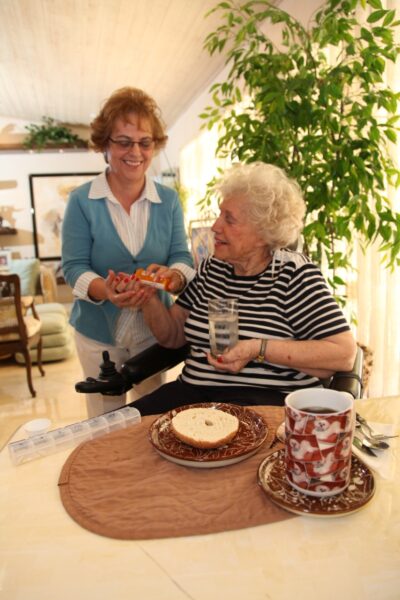 Lower Your Readmission Risk
Quality care in the days and weeks following a hospital discharge is critical to reduce the risk of patient readmission. Catholic Health Care Transitions Services (CHCTS) assures you or your loved one a safer, smoother, more effective transition from inpatient hospital discharge to home, assisted living or skilled nursing facility.
We provide a full range of post-discharge support and resources as needed, including:
Discharge plan and primary care/specialist care provider followup
Efficient patient information handoff from hospital care teams to assisted living, skilled nursing or home health teams
Nutritional Support/meal delivery for prescribed diets
Medication delivery
Financial assistance to obtain medications
Transportation assistance for follow-up visit with PCP/Specialist
Proven Results: 49.2% Readmission Reduction
During a 3-year program initiative led by the Centers for Medicare & Medicaid Services, (CMS) CHCTS provided evidenced-based care transitions services to 13,000+ patients of which 10,496 were under the Community-based Care Transitions Program.
CHCTS achieved a 49.2% reduction in readmissions for the target population.
While this CMS-led CCTP program has formally ended, our CHCTS team continues to earn positive clinical outcomes and patient satisfaction, successfully managing thousands of patient transitions from hospital to home.
Catholic Home Health Rehabilitation Services
Physical Therapists & Physical Therapist Assistants
Will work with you to help restore the use of the extremities, provide strengthening and coordination exercises, pain control, therapeutic treatments with the goal of maintaining our patients independence at home.
Occupational Therapists & Occupational Therapist Assistants
Occupational therapists and assistants provide rehabilitation of the upper extremities and hands. They evaluate self-care needs and help our patients relearn the skills needed to perform activities of daily living.
Speech Language Pathologists
When language and swallowing skills have been affected by illness or accident, speech therapists can assist in restoration of skills. Our therapists will evaluate our patients' needs, provide therapy, teach techniques to improve swallowing and help the patients and their family communicate.
Medical Social Workers
Medical Social Workers are specially trained in assisting our patients with their health planning, counseling, and community resource needs.
Home Health Services: FAQs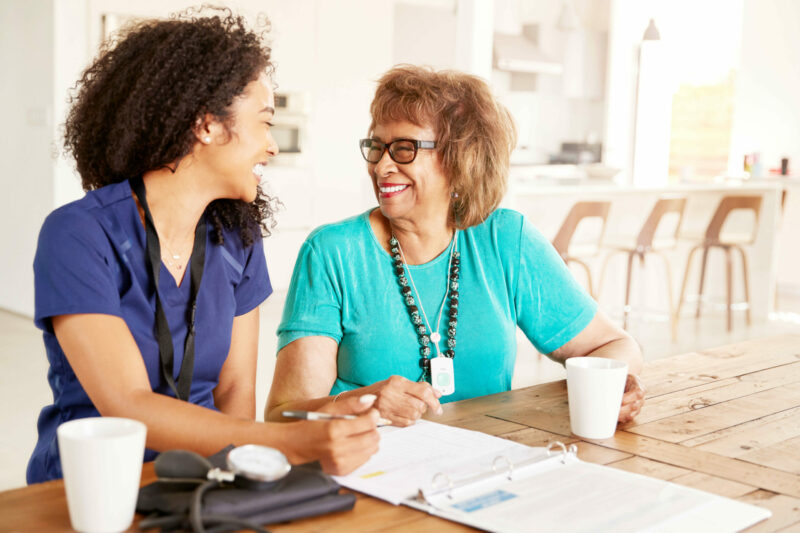 Experience skilled, compassionate care in the comfort and privacy of your own space. Trusted home health partner by South Florida leading hospitals for your continued recovery. We'll care for you in your home, assisted living apartment or hospital room — anywhere in Miami-Dade or Broward County.
Give us a call. We answer our phones 24 hours a day, 7 days a week. We'll arrange a time to visit you, your family and/or any authorized representative to fully discuss your particular home care situation and how we might help.
Together, we'll go over the care your family needs and the care we provide. We'll answer all of your questions regarding in-home care services and costs. Then, we'll begin putting together your Patient-centered Plan of Care, specific to the needs of you or your loved one and matching you or your loved one with the right caregiver. Usually, care can begin within a few days.
Although the words sound similar, these two services are actually different.
Home care, (also called in-home care,) helps people with daily tasks of living. Examples of home care assistance include:
Bathing, dressing and grooming
Toiletry/incontinence care
Light housekeeping
Shopping
Meal delivery and preparation
Transportation
Medication reminders
Social companionship
Home health care is skilled care: treatment prescribed by a doctor to help a patient recover from surgery, illness or injury or to manage medical needs. Examples of home health services include:
Skilled nursing
Therapy (physical, occupational and/or speech)
Medical testing
IV injections
Pain management
Medication management (administering meds)
Wound care
Many more, depending upon patient needs
Medicare and traditional health insurance typically doesn't pay for hourly personal care services like these. However, some long-term care insurance policies do and we may be able to provide documentation to help you obtain the best coverage possible.
Generally, yes. As part of a doctor-prescribed medical treatment plan, home health care services are usually covered by both Medicare and traditional health insurance plans.
For services under the Medicare benefit, you will need to be under the care of a physician who is qualified to order home care services. We will need an order before we can start your care. If you have a Managed Care Plan we will need an order and authorization to provide skilled services such as nursing, physical therapy, occupational therapy Medical Social Worker, or speech and language therapy. You don't need authorization to request private-pay, non-healthcare support like a home home health aide. You choose the services you want, when to start those services and how often those services are used.
If you request assistance with billing a private insurance policy (such as long-term care insurance) for our services, we're happy to help with the entire "benefits coordination" process. This includes providing any documentation you need for reimbursement by an insurance carrier.
How Can We Help? Contact Us Now.