Specialized Nursing Capabilities
When you or a loved one needs ongoing help with medical conditions needing full-time supervision from licensed nurses, look no further than CHS. Our skilled nursing services also cover short-term recovery after acute illness or accident to get your health and life back on track. You'll find four CHS skilled nursing centers throughout Broward and Dade Counties, with specialized nursing capabilities for:
Total Knee/Total Hip Replacement
Intravenous Nutrition
Hydration Program
Antibiotic therapy
Wound Care
Post CABG (Coronary artery bypass graft/open heart surgery)
Central Line/Port Maintenance
Continuous Passive Motion Machine
G-Tube Feeding
Ileostomy
J-Tube
Bi-Pap/C-Pap (Positive Airway Pressure)
Anticoagulant monitoring
VRE, MRSA, C-Diff (serious infection management)
Tracheostomy care
Onsite Dialysis Clinic
Transfusions
Tour our Skilled Nursing Centers
View our capabilities and serene, spacious recreational grounds first hand. Take a virtual tour of St John's Nursing Center (Lauderdale Lakes), Villa Maria Nursing Center (North Miami), Villa Maria West Skilled Nursing Facility (Hialeah Gardens) and St. Anne's Nursing Center (South Miami).
The CHS Advantage: Fully Integrated Care
Highly specialized nursing skills are important, but achieving the best possible outcome for you requires even more. Our "integrated" or "interdisciplinary" approach means that each specialized expert that cares for you also communicates and collaborates very well with others on your care team, including your primary care physician. We also focus on the whole you — your emotional, spiritual and physical well-being.
Your collaborative care team includes:
Medical directors
Registered nurses
Licensed practical nurses
Certified nursing assistants
Dieticians
Activities coordinators
Social workers
Case managers
Occupational, physical and speech therapists
Skilled Nursing Locations: Miami & Fort Lauderdale
You're just a short drive away from top-quality skilled nursing support. Find four conveniently located CHS Skilled Nursing Centers in Dade and Broward Counties.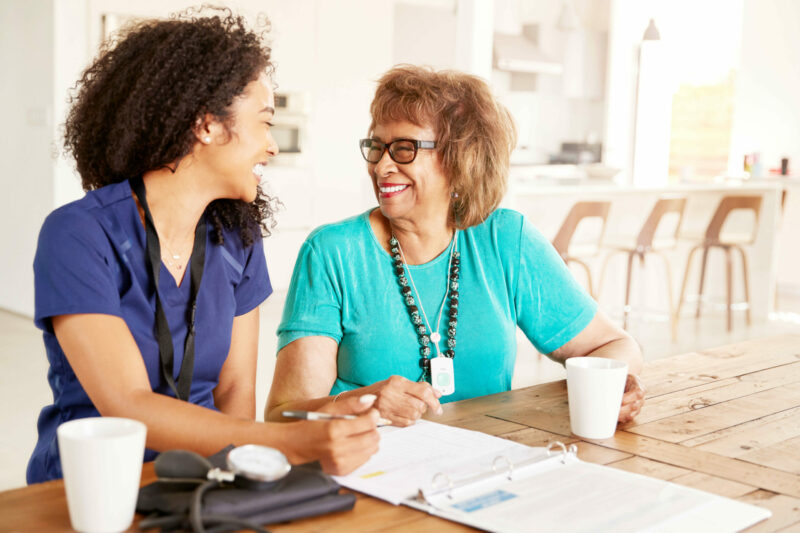 Visitors are very important to our residents, and a well-planned visit can be rewarding for both of you. When visiting a loved one, talk to the staff about the best time to visit your loved one. Coach your children on what to expect, and plan an activity such as working on a photo album, writing letters, playing cards or a game, or eating a meal together. If your loved one can manage, plan an activity outside of the center. Check with each Skilled Nursing Facility on its policy on bringing cherished pets for visits.
Making the move to a long-term care setting can be one of the most difficult decisions you make. To help you and your loved one get acquainted with the center, make sure you discuss these items with the health care providers so they can help make the transition as smooth as possible. What are the patient's diet likes and dislikes? How mobile is she? How much can she manage her personal care and hygiene? What were her former living conditions like? What support did she have? What role does religion play in your loved one's life? What are your loved one's routines and habits, as well as hobbies? What about mental capacity? Does your loved one fear new surroundings? Does she socialize easily?
As the child or spouse of an aging or ill loved one, guilt or fear may prevent you from getting the help you need. Our admissions team will be happy to provide you with literature support, community support programs and information about our services, including respite care, to help you take a break and get the rest you may need.
For short-term stays focused on rehabbing a patient home, ask the Skilled Nursing or Rehabilitation Facility about its successful outcomes treating patients with your or your loved one's illness, injury or disease. Ask about the staff's knowledge about post-hospital care. Tour the center for cleanliness, friendliness of staff and amenities that are important to you. Ask to sample food and visit with patients similar to you or your loved one.
The Medicaid program provides medical benefits to low-income people who have no medical insurance or inadequate medical insurance. The federal government establishes general guidelines for the program, but each state establishes the program's requirements including eligibility. You can find out more about the Medicaid program through cms.gov or by talking to our admissions team.
Medicare is a health insurance program for people 65 or older or people under 65 with certain disabilities or end-stage renal disease. Medicare does not cover all expenses and is not designed to pay for long-term custodial care. so it is important to understand the program. For patients meeting requirements, Medicare helps cover the costs for hospital stays, skilled nursing home stays up to 100 days and hospice care. Our admission team members will be happy to provide you with current rates and coverage.
How Can We Help? Contact Us Now.