St. Anthony's Rehabilitation Hospital 
3487 NW 30 Street
Lauderdale Lakes Fl, 33311
(954) 739-6233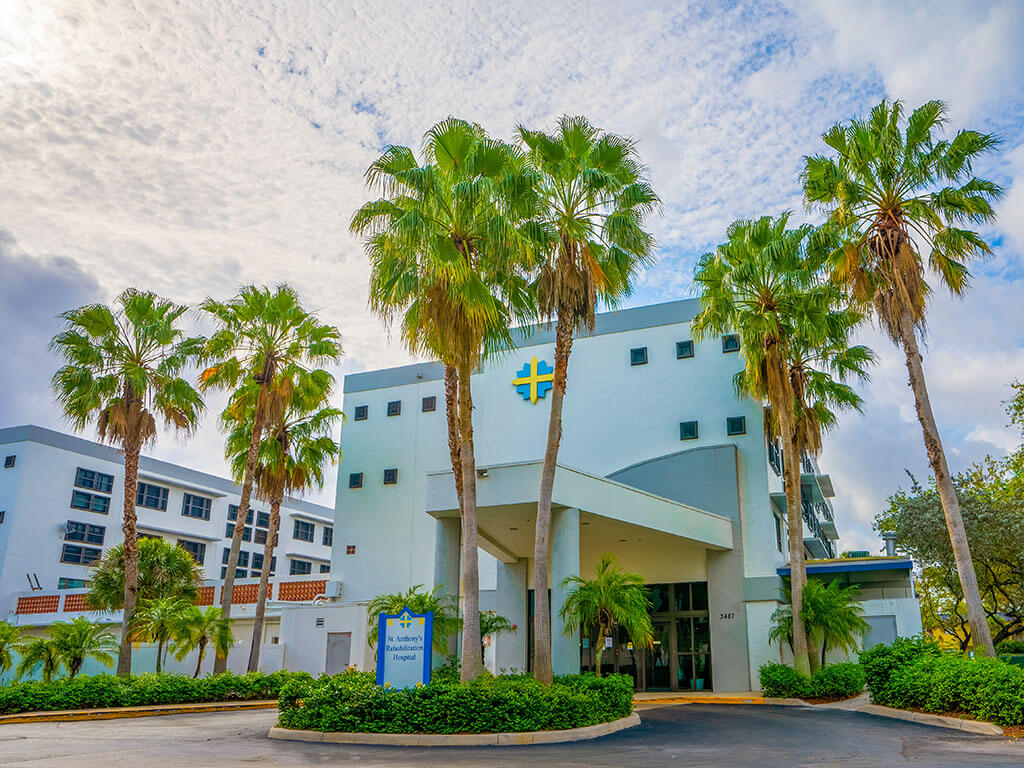 Take a video tour
St. Anthony's Rehabilitation Hospital is a 26-Bed state of the art acute medical rehabilitation facility designed for patients who are medically stable and can benefit from intensive rehabilitation in a structured hospital setting.
St. Anthony's Rehabilitation Hospital features 20 beautifully appointed private rooms and 3 semi-private rooms. All rooms are equipped with the most advanced technology while maintaining a home-like atmosphere. In addition, there is a room designed to train and challenge the patient and family in a "homelike" setting.
A catastrophic injury or illness often leaves people disabled. However, through specialized medical rehabilitation, many patients regain lost function and learn or improve on skills that can compensate for lost abilities
The centerpiece service of St. Anthony's Rehabilitation Hospital is the Aquatic Center. A temperature controlled indoor swimming pool provides both inpatients and outpatients the ability to engage in therapeutic aquatic exercises.
The St. Anthony's Rehabilitation Teamwork with one important goal in mind: to design a program individualized for each patient that helps them to achieve the maximum level of functional independence they need to return home and resume daily activities.
Comprehensive Programs for those suffering from:
Stroke
Traumatic Head Injury
Spinal Cord Injury
Multiple Trauma
Neuromuscular Disorders such as: Multiple Sclerosis, Parkinson's Disease, Gilliam Barre, Lou Gherig's Disease and Muscular Dystrophy
General Orthopedic to include: Fractures and Total Hip & Knee Replacement
Amputee
Chronic or Acute Pain
Arthritis/Osteoporosis
Cardio Pulmonary Condition
Medical Outpatient Clinics:
Wound Care
Neuro-Psychology
Internal Medicine
Endocrinology with a concentration on Diabetes
Pulmonology
Cardiology
Rehab Medicine
Certifications:
Joint Commission Accreditation of Hospital Organization
Stroke Certification through Joint Commission