Meet Dr. Patrick Taylor
July 26, 2020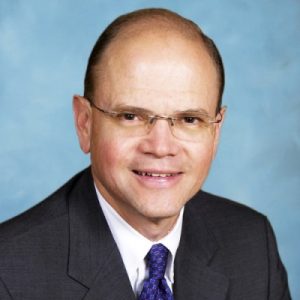 Dr. Patrick Taylor has joined the Catholic Health Services team as a special consultant to assist with our response to the COVID-19 pandemic.
Dr. Taylor's experience as the CEO of Holy Cross Hospital for 30 years and his knowledge of the local providers as well as all Site Delivery Models has been invaluable to our organization and Patients and Residents.
Under Dr. Taylor's leadership, Holy Cross launched and completed several new investments to serve the community better. This includes completing the $26 million Moran Challenge (The Jim Moran Heart and Vascular Research Institute); The Phil Smith Neuroscience Institute; Doreen Koenig Blessed Beginnings Maternity Unit; Dorothy Mangurian Comprehensive Women's Center; and the Patricia R. Guerrieri Pavilion. Holy Cross also developed an affiliation with Massachusetts General Hospital in clinical areas of oncology, cardiovascular and neurosciences and was recognized as a national leader in orthopedic excellence.
Dr. Taylor has been a long-standing supporter of the South Florida community, serving on numerous non-profit Boards: Catholic Health Services; Broward Partnership for the Homeless; Jack and Jill Children's Center; The Broward Workshop. He has received a number of recognitions including the 2007 Valor Award, American Diabetes Association; the 2010 Leadership Broward Foundation Leader of the Year Award; the 2015 Broward Partnership James J. Blosser Community Trusteeship Award and the 2018 Junior Achievement, Melissa Aiello Character Award.