Catholic Hospice Donates Backpacks for Centro Mater Kids on the First Day of School
August 22, 2018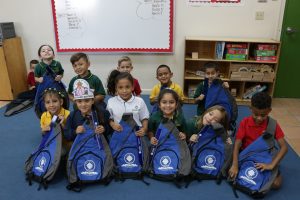 On the first day back to school, Catholic Hospice gifted brand new backpacks and rulers to thirty children from Centro Mater West's after-school program in Hialeah Gardens. For many families backpacks can be a difficult expense. Catholic Hospice wanted to alleviate that expense by providing high-quality backpacks that will last the school year and beyond. The backpacks were distributed to two classrooms, a Kindergarten -2nd grade class and 3rd- 5th grade class.
Centro Mater West Program Administrator, Julie Riveron-Bello said "We were so excited when we found out Catholic Hospice would be donating backpacks and we were even more surprised to see rulers! These are practical supplies the kids could use for the school year. We are so thankful!"
Centro Mater is the first child care services center in Florida to combine a pre-school and before-and-after school programs, and between all five sites they serve about 1200 kids and their families each day.
Riveron-Bello went on to explain that many of the parents don't have much local familial support; "we really try to work with them and provide the extra support they need for their kids. These backpacks were a great bonus!"
We hope that by providing them with the right tools, we can help these kids succeed in school and give their parents one less thing to worry about this year.
We wish all the kids, families, teachers and staff a prosperous school year!