Camp Erin® South Florida is a FREE, weekend bereavement camp for youth who are grieving the death of a significant person in their lives. Children and teens ages 6 to 17 attend a weekend camp experience that combines grief education and emotional support with fun, traditional camp activities. Led by bereavement professionals and caring volunteers, campers are provided a safe environment to explore their grief, learn essential coping skills, and make friends with peers who are also grieving. This camp is offered to families at NO COST.
REGISTRATION FOR OUR MARCH 2023 CAMP IS CLOSED!
Please also note that we will not be hosting a fall camp this year, instead, we are hosting a special ONE-DAY FAMILY CAMP IN JULY!
Priority for this family camp will be given to frontline healthcare workers and other families grieving the death of someone from COVID-19, as well as those who experienced a death in 2020 and following. More details to follow.
FOR QUESTIONS OR ASSISTANCE: Contact our team at CampErin@Catholichospice.org or (954) 944-2709.
We look forward to supporting your campers!
Contact Us
"*" indicates required fields
The history of Camp Erin
Camp Erin is named in memory of Erin Metcalf of Woodinville, Washington, a remarkable young woman who developed liver cancer at the age of 15. Karen and Jamie Moyer met Erin through Make-A-Wish.
Erin had a compassionate heart and when she was hospitalized she often expressed concern for the other children there as well as their siblings, who sometimes received little attention. The Moyer Foundation helped fund several children's bereavement camps – including camps for the victims of 9/11, discovering the positive impact a camp of this kind could have.
In 2000, when Erin died at the age of 17, Jamie and Karen Moyer wished to honor Erin's memory and her caring spirit. Acknowledging her love of children and her desire to help others, the Moyers felt that a grief camp for children would be an appropriate tribute. The first Camp Erin was established in Everett, Washington in 2002 helping 42 grieving children.
Volunteer Opportunities
To learn more about volunteer opportunities, please contact our Volunteer Services Department at (305) 351-7052 or VolunteerServices@catholichospice.org.
Click Here for Application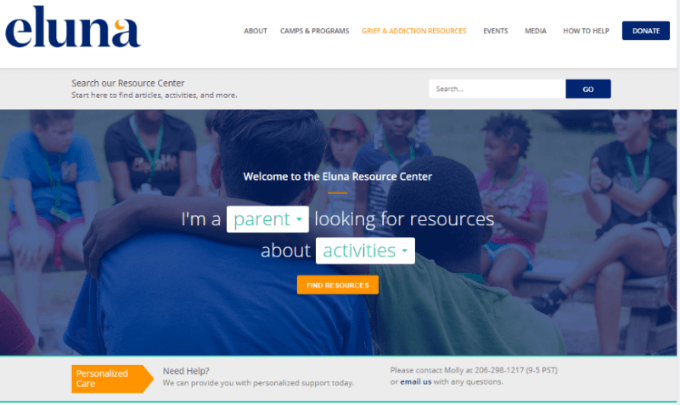 Looking for important grief resources to help a child, friend or family member in your community or nationwide? We are proud to share the Eluna Resource Center. Its straightforward design makes it easy to search for articles, videos, activities, and referrals to local programs. In addition, Eluna offers free recommendations with a 24-hour turn-around.
Eluna is a public, 501(c)(3) non-profit with a mission to support children and families impacted by grief or addiction. Founded in 2000 in Seattle by former MLB pitcher Jamie Moyer and child advocate Karen Phelps Moyer, Eluna was originally called The Moyer Foundation and launched a series of programs supporting thousands of children and families annually at no cost to them. Camp Erin® is the largest national network of grief programs for bereaved children and teens, Camp Mariposa® is a national addiction prevention and mentoring program for youth impacted by a family member's substance use disorder, and the Eluna Resource Center offers online tools, local referrals and personalized phone and email support for families experiencing grief, addiction and other related issues. For more information, please visit elunanetwork.org