Camp Erin Helps Children Learn To Grieve
Camp Erin® South Florida is a FREE, weekend bereavement camp for youth who are grieving the death of a significant person in their lives. Children and teens ages 6 to 17 attend a weekend camp experience that combines grief education and emotional support with fun, traditional camp activities. Led by bereavement professionals and caring volunteers, campers are provided a safe environment to explore their grief, learn essential coping skills, and make friends with peers who are also grieving.  This camp is offered to families at NO COST.
REGISTRATION FOR OUR OCTOBER 2022 CAMP IS CLOSED! Our next camp will be on March 17-19, 2023. More details to follow.
Contact our team for any questions at CampErin@catholichospice.org or (954) 944-2709. We look forward to supporting your family!
Grief shouldn't be lonely
At Camp Erin, grieving children learn that they are not alone, that their feelings are normal. They have a safe environment to express themselves with other children going through a similar experience.
Activities that heal
Grief professionals and trained volunteers lead age appropriate groups through clinical grief activities such as remembrance ceremonies, sharing circles, art therapy, music, creative writing, drama and other physical activities.
Camp facilities
Campgrounds have air conditioned cabins fully equipped kitchen, dining hall and bathroom/shower facilities. Campers dine with their cabin mates and Cabin Big Buddies. All meals and snacks will be provided by the camp. Campers will be grouped in cabins according to age/gender. Each cabin will be staffed with two trained Cabin Big Buddies for every 5 campers.
Camp information and Application
Camp Erin is a weekend-long sleep-away camp full of fun, friendship, support and healing.
Additional resources
Child grief is a specialized topic, but there are several local and national organizations that offer resources for the kids themselves and parents of grieving children, including these organizations:
Helpful articles
If your child or a child you know is grieving, these articles can help you understand and relate to their experience:
The history of Camp Erin
Camp Erin is named in memory of Erin Metcalf of Woodinville, Washington, a remarkable young woman who developed liver cancer at the age of 15. Karen and Jamie Moyer met Erin through Make-A-Wish.
Erin had a compassionate heart and when she was hospitalized she often expressed concern for the other children there as well as their siblings, who sometimes received little attention. The Moyer Foundation helped fund several children's bereavement camps – including camps for the victims of 9/11, discovering the positive impact a camp of this kind could have.
In 2000, when Erin died at the age of 17, Jamie and Karen Moyer wished to honor Erin's memory and her caring spirit. Acknowledging her love of children and her desire to help others, the Moyers felt that a grief camp for children would be an appropriate tribute. The first Camp Erin was established in Everett, Washington in 2002 helping 42 grieving children.
Volunteer Opportunities
To learn more about volunteer opportunities, please contact our Volunteer Services Department at (305) 351-7052 or VolunteerServices@catholichospice.org —  Click here for application.
Looking for important grief resources to help a child, friend or family member in your community or nationwide? We are proud to share the Eluna Resource Center. Its straightforward design makes it easy to search for articles, videos, activities, and referrals to local programs. In addition, Eluna offers free recommendations with a 24-hour turn-around.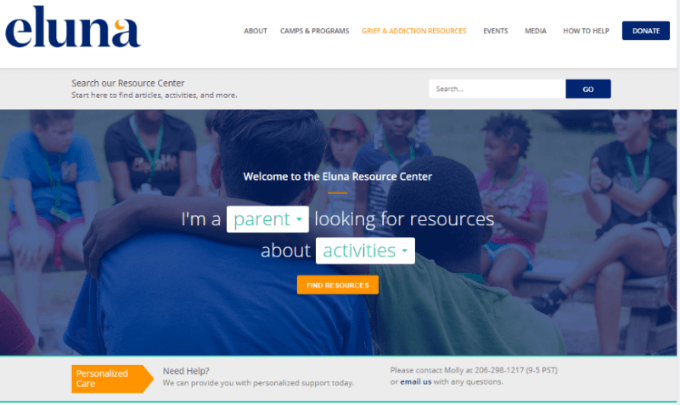 Eluna is a public, 501(c)(3) non-profit with a mission to support children and families impacted by grief or addiction. Founded in 2000 in Seattle by former MLB pitcher Jamie Moyer and child advocate Karen Phelps Moyer, Eluna was originally called The Moyer Foundation and launched a series of programs supporting thousands of children and families annually at no cost to them. Camp Erin® is the largest national network of grief programs for bereaved children and teens, Camp Mariposa® is a national addiction prevention and mentoring program for youth impacted by a family member's substance use disorder, and the Eluna Resource Center offers online tools, local referrals and personalized phone and email support for families experiencing grief, addiction and other related issues.  For more information, please visit elunanetwork.org