May is National Stroke Awareness Month
May 29, 2020

Did you know May is National Stroke Awareness Month?
Catholic Health Services provides comprehensive inpatient and outpatient programs for those suffering from a stroke. The Stroke Rehabilitation Teams at St. Anthony's and St. Catherine's Hospitals work with one important goal in mind: to design individualized interdisciplinary programs that help each patient achieve a maximum level of functional independence to return home and resume their daily lives. Our rehabilitation hospitals are stroke certified state of the art medical facilities. They are designed for patients who are medically stable and can benefit from intensive interdisciplinary rehabilitation in a hospital setting. Here's some important information about stroke you should know.
Risk Factors for Stroke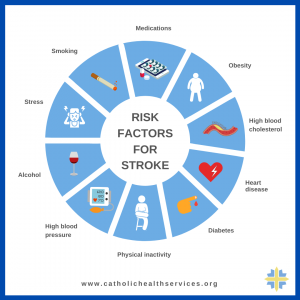 Risk Factors for Stroke
Clinicians at our hospitals follow evidence-based Clinical Practice Guidelines (CPG) in the post-acute medical management and rehabilitation of individuals with stroke. The organization's CPG is based on the clinical guidelines developed and published by the American Heart/ American Stroke Association and the Canadian Stroke Network/ Heart and Stroke Foundation of Canada.
As a result, the facilities and clinicians have solid/broad clinical and professional expertise for the development and maintenance of standards by the Joint Commission to ensure the highest quality of care to patients who suffered from a stroke in the post-acute care setting.
Did you know?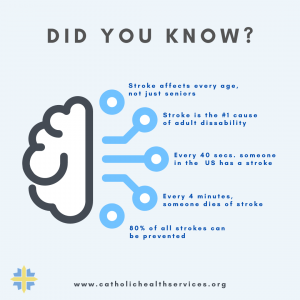 One-third of Americans are unaware of the warning signs and symptoms to spot a stroke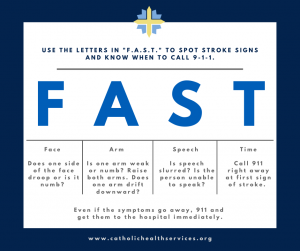 Catholic Health Services has created a Facebook Stroke Support Group to help bridge the medical and emotional needs of stroke survivors, family members and anyone who supports them. Join us today and share your journey with us.