Florida Panthers highlights Jean-Daniel Vereet, Catholic Hospice Care Manager RN for Black History Month
February 14, 2023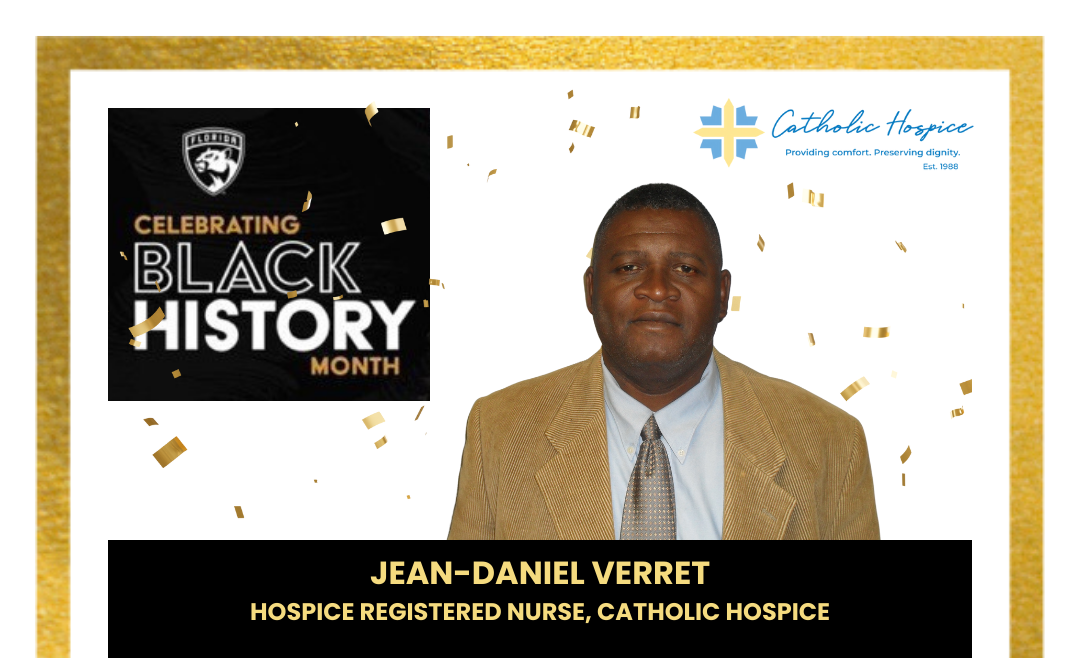 The Florida Panthers is celebrating Black History Month this month by commemorating the second annual "Celebration of Black Excellence" series, which recognizes individuals in South Florida who are nominated by their peers, colleagues, and families for the positive impact they are making in their communities and beyond.
Honorees are highlighted throughout Black History Month on the Panthers' website at www.FloridaPanthers.com, and via their social media platforms: @FlaPanthers and @FlaPanthersCARE.
This week, the Panthers proudly highlighted nine honorees in service, health, and wellness, including our very own Jean-Daniel Verret, Hospice Care Manager RN, Pearl Team (Broward)!
Jean Verret is a Hospice Care Manager for Catholic Health. As a male nurse, Jean strives to be a source of strength and comfort for the patients and family members. He understands that he may be the last person a patient encounters, so he believes it is his duty to show compassion, relieve the suffering, treat the physical needs, and allow the patient to go through the process with dignity, independence, and free of pain. Jean is a proud immigrant who came to the United States in pursuit of a better life for himself and his loved ones. He is a devoted Christian, a loving husband, and a dedicated father of three who has always worked hard to provide for his family. Through his determination and hard work, he has been able to establish a successful career and create a legacy for his children.