<![CDATA[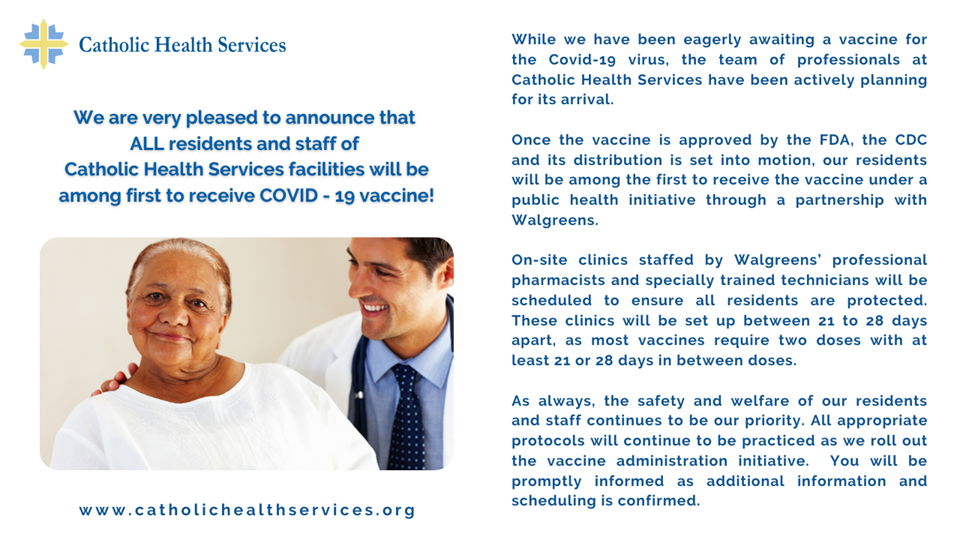 Vaccine Consent Forms

Look who's Crushing Covid….
Archbishop Thomas G. Wenski, Archdiocese of Miami
Joe Catania, President and CEO of Catholic Health Services
Dr. Brian Kiedrowski, MD, CMD, CPE – Chief Medical Director of Catholic Health Services
On December 16, 2020, The Florida Department of Health came to St. John's Nursing Center at the Catholic Health Services North Campus in Lauderdale Lakes today and administered the COVID-19 Pfizer vaccine to 134 staff and 79 long-term care residents in the nursing center. From the medical director to staff physicians, nurses and other direct patient care personnel were eager to be among the first to receive this historic vaccine.
On December 23, 2020, Walgreens came to Villa Maria Nursing Center at the Catholic Health Services East Campus and administered the Covid-19 Pfizer vaccine to our staff and our long-term residents in the nursing center. Our administrator Nathaniel Johnson and Director of Nursing, Brenith Delson, RN, led our staff in this historic event. "Everyone needs to get vaccinated, it's the right thing to do for the population we serve" states Michelle Rousseau, Risk Manager for the East Campus.
January 8, 2021, another historic event occurred, this time at St. Anne's Nursing Center as the residents and staff receive the Covid-19 vaccine. The group was led by Sandra Cabezas, Executive Director South Campus and Ardy Pallin, COO Catholic Health Services. This is the first step to keeping our staff and residents safe, which is our number one priority!!
January 14, 2021, CHS West Campus received the Pfizer Covid-19 vaccine for their residents and staff. Over 251 vaccines were administered by Walgreens. "The process was well organized and coordinated. We have been working nonstop for three days to ensure the process was handled flawlessly" states Anais Gomez, Administration. "Walgreens, the paramedic crew and even our employees complimented us on the way it was distributed".
]]>